Your One Stop Professional Solution for Commercial Audio Video Systems Integration
Customize your business environment with a professionally designed commercial audio video system by Creative Media Solutions (CMS). CMS is a leader in integrating high performance, commercial audio video systems that will enhance your business and your customers' experience. From DIRECTV® and Custom Business Music Solutions to Dynamic Digital Signage, Security Surveillance Systems and Voice & Data Low Voltage Cabling, CMS is your one stop professional solution for all your commercial audio video needs. We offer consultation, design, sales, service and installation of commercial audio video systems for restaurants, bars, health clubs, entertainment facilities, medical, dental and professional offices, corporate boardrooms and more. We make AV simple.

Improve Your Bottom Line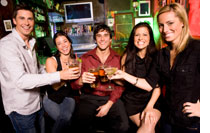 Enhance your customers' experience from the minute they walk in the door with innovative audio video products and services from Creative Media Solutions. Customers are more likely to stay longer and refer your company to others when your business environment makes their experience more comfortable and enjoyable.
We Make Your Job Easier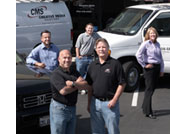 When you work with Creative Media Solutions, we become your total on-site project manager. If an issue comes up in the field, we know how to handle it. With over 25 years of industry experience and technical expertise, we can anticipate potential problems and eliminate them before they escalate. We work with you and your vendors through the entire process to create a customized package that fits your needs and improves your business.

DIRECTV Specials!
Up to 25% off DIRECTV's popular programming packages for 12 months!
Up to 3 FREE HD Receiver Upgrades or up to 3 standard receivers FREE!
Access to the best local and national HD Channels
CALL NOW TO SIGN UP FOR THESE GREAT OFFERS!!